Greg Mrakich Painting, Indianapolis, Indiana was asked to provide painting tips for textured walls and ceilings by Phil from Westfield, Indiana.
Thanks for asking me Phil, this is a great question and something I run into quite frequently – especially when painting homes built in the past 30 years. In some areas of the country, even the exterior stucco walls can have a very rough texture.
Textured ceilings are the standard now with 90% of new construction and not for the reasons you might think. Yes, they look nice but that stamped drywall mud is hiding something. New open floor plans create huge ceiling surfaces.  The framing can never be perfect because the lumber that is used in the framing can never be perfect. On a smooth surface, any and all imperfections in the framing would be translated to the finished ceiling, making it look wavy. We might only be talking about 1/32 of an inch, but normal room lighting and sunlight would give away flaws. A stamped textured ceiling will 'break up' the surface and mask imperfections.
Builders love textured ceilings for two reasons:
No need to apply the final two drywall finishing coats
No need to paint the ceiling because the drywall mud used to stamp the ceilings dries a nice even white, and is considered a finished surface when dry (leaving it for the homeowner to paint later and at his/her expense)
So, how to paint your textured ceilings? If possible, empty the room of furniture.  Cover the floor in plastic.  On a normal flat surface, you would use in most cases a 3/8 inch roller cover, but on a textured ceiling, you may have to go to a 1/2 inch.  Try a 3/8 first. The shorter the nap on the roller, the less it weighs when full of paint, and the less splatter created.  For unpainted drywall, it will first need a primer coat before the finish coat is applied.  In most cases, a full bodied primer with white tint added looks great when dry, and a finish coat may not be necessary.  I always offer this as an option to my clients and I have NEVER had anyone ask for an additional finish coat once they see how nice the dried primer looks.
If you are painting a textured surface that has been painted before, the 'roughness' of the texture, will dictate the nap roller you will need. You will use more paint because of the added surface area. Also, paint a little slower than you would on a flat surface because rough surfaces cause much more splatter than  smooth surfaces.  All of these tips are for walls and ceilings, interior or exterior.  Be sure to wear protective eye wear. You WILL get splattered with paint speckles.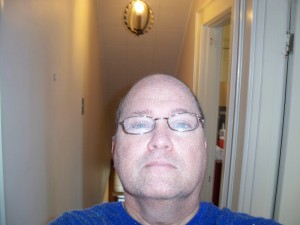 Greg Mrakich Painting is an EPA lead-safe certified firm. For more information about Greg Mrakich and Greg Mrakich Painting, click here. Or, if you live in the metropolitan Indianapolis area and would like to contact me, click here.
Tags: Exterior Painting, Greg Mrakich Interior Painting Tips, indianapolis area painting companies, Indianapolis area painting contractors, Indianapolis EPA lead-safe certfied painting company, Interior Painting